10 MORE COOL THINGS TO DO, SEE + KNOW AT HPMKT
Literally, we could post everyday about all the launches, openings, and events at High Point Market. It really is an eye candy store for designers plus plenty of brain food and good vibes all around. I already posted all the seminars and events that I am working on. And here are a few more to-knows and to-do's, an eclectic mix happening in all different pockets of town.
DINING BY DESIGN
A fab coterie of designers — Elle Cole, Mikel Welch, Steve McKenzie, Cynthia Ferguson, Young Huh, Ruthis Staalsen, Lauren Clement, and Mitchell Hill — is participating in DIning by Design, a collaboration between Replacements Ltd. and Alden Parkes, . Alden Parkes, 200 Hamilton, Suite 110
THE POINT
THE POINT, the pop-up along Commerce and Elm where you go to learn, meet, greet, and eat is getting a refresh this Market courtesy of the Barbour Spangle design team. While the layout is essentially the same,new furnishings and decor are influenced by urban towns and athleisure fashion -- think grit and pops of color. A complete list of events at The Point is here.
NEW PHOTOGRAPHY POP UP
Photographer Ron Royals is hosting a 4-day pop-up that includes 40 pieces of his fine art photography along with over 30 pieces of furniture from Julia Starr Sanford's Sublime Original collection. 1012 West Market Center Drive. Open Wednesday - Saturday. Launch Party Thursday April 4th, 6 pm - 10 pm. RSVP to ron@ronroyals.com.
RON ROYALS HPMKT POP UP cont.
Fifteen of Ron's new images are from a recent trip to Southeast Asia, what he calls a "photo safari." ronroyals.com
LINWOOD DEBUTS
Mixed media artist Linwood is showing 12 original works at Thayer Coggin, each piece created for a specific showroom vignette. Says Linwood, "The Thayer Coggin showroom esprit and their brilliant furniture design became an inspiring point of departure. Of course, artwork certainly needn't match your sofa, but holistic design – art and furniture – where disparate influences, elements and materials come together is a high achievement. I think we all seek unity." Thayer Coggin, 200 South Rd, High Piint, Open daily 8-5.
RUG DESIGNS BY MILO BAUGHMAN
Also at Thayer Coggin, the debut of 4 rugs, representing a new collaboration between Thayer Coggin and Creative Accents, What most people don't know is that Baughman created several modern textile designs in the1960s and now they are being revived. The rug shown is Stupid Cupid.
GAIL DOBY UNPLUGGED
Over the weekend at Universal's Designers Lounge, Gail Doby will host two 2-hour unplugged business conversaions on topics such as pricing your services, scaling your business, attracting ideal clients, and how to protect yourself with a good contract. "FOr Gail "unplugged" means: up close and personal, no mic, with time to answer the hot questions on designer minds. Universal Designer Lounge, 101 S. Hamllton, 2 - 4 pm, Saturday and Sunday.
THE BELLE & HER BEAUS
When designer Cheryl Luckett launched Belle by Cheryl Luckett with Sylvester Alexander last market, she chose fabrics from some of her favorite Southern female textile designers to cover her boutique upholstery collection. This go-round, she reached out to the gents. Reception on Friday 4-5:30, Sylvester Alexander, SAMS M-1035
THE FABRIC FELLAS
Cheryl's upholstery frames will be wearing completely different looks with prints from Steve McKenzie (whose Loop fabric is featured in the lead image), Scot Meacham Wood, and Madcap Cottage (rendered here).
MARVELOUS MARBLING
If you missed the hands-on Vegas fun of marbling with Jill Seale, you can swing by Company C on Sunday afternoon and try your hand at this age-old craft. In marbling, what you see is not usually what you get! It's magic! Company C, IHFC, Main, 1st Floor, Sunday 4 - 6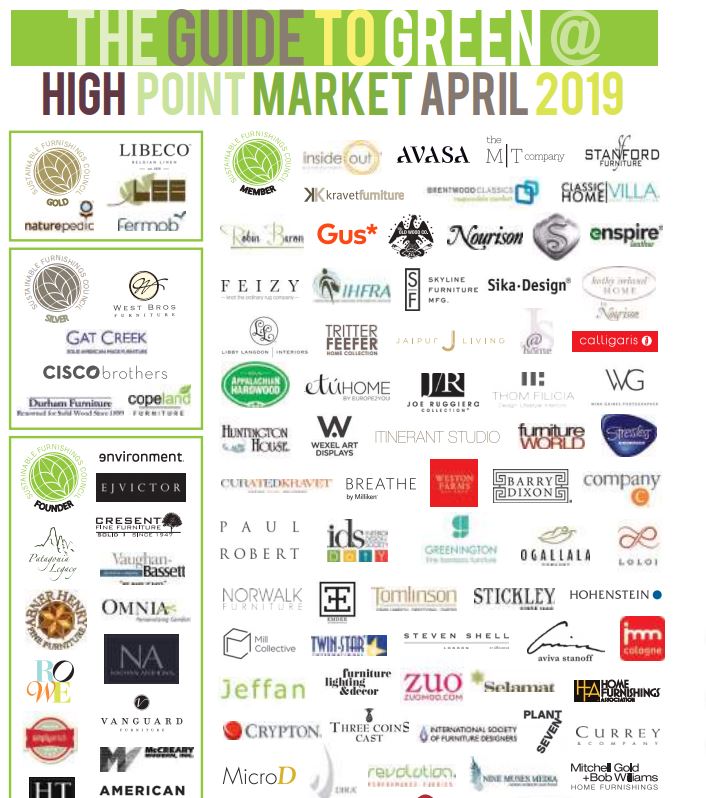 GUIDE TO GREEN
The Sustainable Furniture Council makes sure you know the companies making an effort to manufacture more sustainably. Get the Guide to Green here.
GREEN LEADER CERTIFICATION
COOL GIRL'S GUIDE TO HIGH POINT MARKET
And if you're still looking for more to see and o, you can check out the 3rd edition of the Cool Girl's Guide to High Point Market. Compiled by designer Marisa Wilson of Artful Interiors after feeling the overwhelm that accompanies a Cool Girl's first High Point Market, the 9-page PDF, with a curated list of events and showrooms plus tips from over a dozen HPMKT designer regulars, is for sale on her site. The Guide also features Marisa's charming watercolor drawings of iconic Market builings.